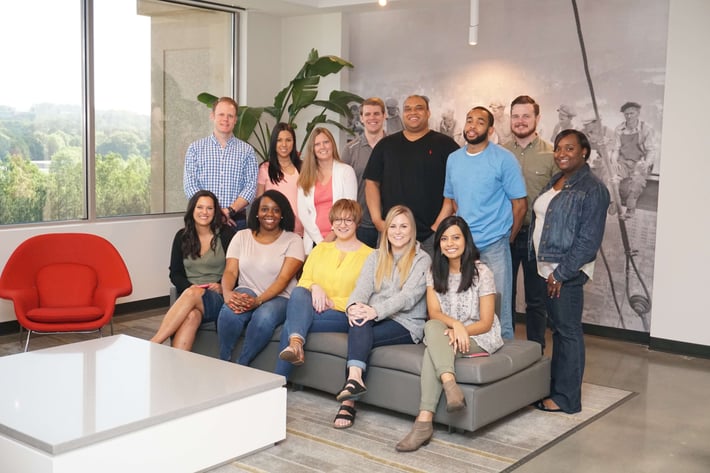 The millennial generation adds a unique set of skills and way of doing business to a workplace. They also often view the world differently than other generations. Utilizing millennials is important for developing a well-rounded workforce that is capable of advancing in the digital age. Kloeckner Metals Corporation has made it a point to include millennials in its workforce and develop a good work environment that millennials find attractive.
"The company as a whole is really focused, especially now, on developing digital innovation platforms," says Matthew Thompson, Regional Safety Manager at Kloeckner and millennial. "We're trending in the direction of technology."
Thompson previously worked for Hewlett Packard, a company heavily focused on technology, and he believes that millennials often bring a level of technological literacy that is crucial in a digitalizing workplace. He points to the branch level at Kloeckner, where historically there has been less of a need to use computers compared to a corporate office environment.
"When you are working for a company like Kloeckner, it is really important to have those technology skills to show people who may have not that experience in their past," Matt says.
Millennials are fluent in things like social media, search engine optimization, and web analytics, using these tools to drive website traffic. Millennials like to dedicate themselves to becoming an expert in one or two fields. They also have a tendency to multitask, juggling multiple assignments at once.
"We're not just concentrating on one thing, which can be a blessing and a curse," says Vivian Lainez, a Marketing Assistant at Kloeckner who is working part-time while finishing her undergraduate degree. "What attracted me to Kloeckner was that it would possibly lead to a full-time position, and it also is marketing which is what I want to do."
Millennials have grown up in a time that places more emphasis on formal education. Finding an economy where job opportunities are sometimes scarce, many of them have extended their educations beyond undergraduate college degrees to become more competitive. Certifications also are becoming more common. Matt, for example, has an MBA and a Certified Safety Professional certification.
"It's about continuing education," Matt says. "To that point, other millennials that I know in the occupational safety and health profession have completed some level of continuing education or certification to advance their career. When I work with more seasoned individuals in my profession, when they entered the safety profession, focus was placed on experience rather than education and there has been a shift to put more emphasis on educational experience as well."
To attract top talent from the millennial generation, sometimes a company must reevaluate what it offers employees. Millennials place a great emphasis on getting fulfillment from their careers. They may prioritize enjoying what they do over things like pay or benefits, though those are also considerations. Millennials also like having flexibility in their work schedules, especially when their job involves traveling. This doesn't necessarily mean setting your own schedule, but sometimes can include the option to telecommute. Additionally, having a good workplace environment is crucial.
"Now, people have realized they spend a significant amount of time at work and we need to make sure that the time we are spending there is valuable to us and enriches our lives," Matt says.
"You want to make sure you are enjoying what you are doing and enjoying who you are doing it with," Vivian says.
Some ways to create a good work environment include company outings and social events. Last fall, the Kloeckner Alpharetta office organized an outing to a corn maze where employees could bring their families. The office also participates in a bowling league at a local bowling alley.
"When an employee is engaged in meeting the goals of the company while also serving their own personal goals, I think that is a game changer when it comes to employee morale and general efficiency of the employee in the workplace," Matt says.
Fostering this kind of environment can also help with employee retention. The millennial generation tends to change jobs more frequently than previous generations. Sometimes it is because the position lacks the opportunity for advancement, sometimes it is due to pay, but overall it is simply because the millennials don't see the job aligning with their personal goals.
"A lot of people I know who hop around jobs do it because they don't like what they are doing, or the company doesn't match with what they want," Vivian says. "Always providing a good work environment is really going to make a person want to stay with a company."
Millennials like to get things done. The millennial approach is to get the current assignment finished so they can move on to the next. Because of this attitude, they tend to gravitate toward flatter management structures where less time is spent waiting for approval. Dealing with bureaucracy can be a significant barrier. Matt explains that this is one reason why he really enjoys working for Kloeckner, where his direct manager reports to the CEO.
"Millennials in particular like a flatter type structure where there are not as many levels of management that they have to deal with when it comes to getting things accomplished," Matt says.
As time goes on, Millennials are going to play a larger and larger role in the workforce. It is important to develop a workplace that combines the assets of millennials with the experience of veteran employees. Finding this balance is crucial for any company moving forward in the digital age.