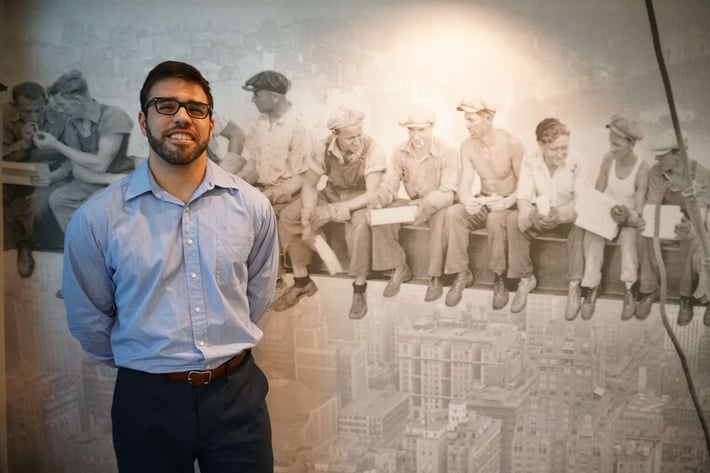 Adam Terrinoni is a millennial who has just started his career with Kloeckner Metals after graduating from LaGrange College this past May. As a staff accountant, Adam hopes to utilize his abilities and unique skill set to improve the Kloeckner team. He has been asked to hit the ground running, and one of the toughest challenges he has faced so far has been learning all of the new software he is using. He believes that as a millennial, he is adept at picking up new technologies quickly and learning as he goes.
"I think that we, as millennials, are able to be thrown into a situation with technology that we may not be comfortable with at first, but we can adapt," Adam says.
Adaptability is one of Adams skills that he believes is becoming more valuable in the office environment. This is particularly true when it comes to cross training. Employees are being asked to wear multiple hats and be able to multitask effectively. Instead of specializing in one area, today's office asks employees to develop a wide range of skills and abilities and develop a complete understanding of the entire process.
"I like baseball, and the player that can play infield, outfield and maybe catch a little on a day is definitely more valuable than a guy who can just play first base," Adam says. "Millennials can take on multiple roles or multiple tasks and perform them effectively at the same time."
Born in South Florida, Adam moved to Roswell, Georgia when he was around 6 years old. He graduated from Roswell High School in 2013, where he played baseball. He continued playing baseball while at college at LaGrange, before deciding to focus more on his career.
Adam decided to look into Kloeckner after hearing about the company through a staffing company. At his interview, he was immediately impressed by the close-knit office atmosphere. Adam got the chance to meet just about everyone in the Roswell office and discovered that they were very much like a family.
"At Kloeckner everyone cares, and everyone asks how your day is going, so I've really enjoyed it," Adam says. "It makes you feel like you're not just a number and you're not just doing tasks all day. You are actually learning about someone's background and someone's family."
Another reason Adam decided to pursue a career with Kloeckner is that Kloeckner emphasizes continuing education and provides its employees with resources so they can keep learning. This was a huge draw for Adam, who plans on pursuing his CPA license while at Kloeckner and growing with the company. He also wants to go to Georgia State and pursue his master's degree in internal auditing. After learning about tuition reimbursement plans offered by Kloeckner, Adam was extremely impressed.
"It's stellar compared to what I've seen from other companies," Adam says.
Adam plans on learning everything that he can while developing his career with Kloeckner. He enjoys the fast-paced atmosphere. He would rather be busy for eight hours than just sit around, and he thinks that is a common attribute for millennials.
"I enjoy it," Adam says. "I'm not really sitting around. I'm learning constantly every day."