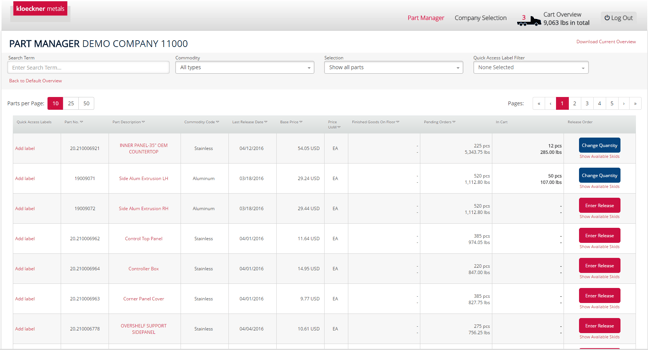 With online shopping becoming ubiquitous, the digitalization of the steel ordering process is inevitable. Already, there are many companies offering online ordering. Switching to an online ordering service can be a game changer in inventory management.
Not all online ordering services are equal, however. When ordering steel online, it is important to find a business that treats the online service with the same care they give the metal products themselves. Finding the right online service can save money, time, and frustration.
Speed and Efficiency
When ordering steel online, there are several factors that will make or break the customer's experience. First and foremost is the speed of the process. Increasing the speed and efficiency of the transaction is the primary reason to digitalize in the first place.
"The biggest factor should be speed," says Matt Meyer, VP Digital Innovations Kloeckner Metals Corp.
It is important to have reliable servers, without lag. Additionally, the process of ordering should be as streamlined as possible. The process should not be overly complicated, and only the necessary information should be required. You don't want unexpected down time on the site, and you don't want the user to spend excess time trying to figure out the system. Having an intuitive user interface, therefore, is crucial to a fast and efficient product.
User Interface
"I think it is critical that the interface not only be visually clean and easy to understand, the flow from screen to screen must be intuitive, and the responsiveness has to be world class," Meyer says. "We have a tool that is as easy to use as Amazon."
Kloeckner Metals' "Part Manager" was designed from the start with client input. The goal was to create a tool that could be easily used by anyone who has a little experience with online shopping. In order to achieve this, Kloeckner went directly to the customer.
"We didn't design something and roll it out to the market," Meyer says. "We went to the market with literally a blank sheet of paper."
Kloeckner let the client fill the blank sheet with their needs. They asked the client what they wanted to see, which eliminated superfluous features. It also ensured that crucial services would not be lost in the digitalization process.
"I think that was critical in not overcomplicating it for the get-go," Meyer says.
The "Part Manager" gives instant confirmation that an order has been received. Most of the order populates automatically. This reduces key punching errors which can come from having to repeatedly type things like purchase order numbers, part numbers, and quantities. Each order is also reviewed at the end by a Kloeckner sales person, for an added layer of quality control. This way you don't have to worry about accidentally ordering 1000 parts instead of 100.
Inventory Analysis
The ability to analyze the inventory picture in real time is one of the key benefits to ordering steel online. A quality online ordering process will provide a detailed picture, complete with analysis tools. "Part Manager" puts you in direct contact with inventories at the service center 24/7.
"Normally a customer is kind of blind to what a supplier has on hand, or they have to go through offline spreadsheet analysis and things of that nature," Meyer says. Meyer explains that customers don't want to get just a general picture. They want a specific and detailed picture with tags. "They want to see 2,100 piece kits in there."
The Kloeckner "Part Manager" also provides graphs to analyze order history. You can compare forecasts to actual usage, and use the information to adjust new forecasts.
"Our business runs in a large part on a forecast," Meyer says. "The graphic representation makes it easy to digest."
Technical Support
Transitioning to a digital ordering process can seem like a daunting task. That is why it is important to find a service that will help you through it. Kloeckner makes the change as easy as possible by combining an easy to learn interface with personalized technical support.
"If it is an existing customer, it literally can be set up on the system within a day," Meyer says. "A new user can be trained in 30 minutes."
This training occurs in face-to-face, on-site launces. Documents and videos supplement the personal training. The technical requirements for getting set up are minimal as well. You only need a computer with an internet connection and a relatively up to date internet browser. The "Part Manager" also has backward compatibility for the last three generations on all major browsers.
"What you don't need to do is get security clearance to put a program on your computer," Meyer says, because all of the service is web based.
When you inevitably do run into technical problems, as happens with all computer technology, Kloeckner keeps the support personal. Your first point of contact is your sales representative, who is trained in computer support. If they cannot solve your problem, you are immediately called by a product manager who will work through the process with you.
"It's U.S. based. We'll never outsource customer service," Meyer says.
Security
Online security can be a concern, so Kloeckner takes every step to ensure that the customer is protected. Everything is done via secured connections. All necessary communication between systems is encrypted to prevent man-in-the-middle attacks. Security measures are kept up to date, and Kloeckner retains tight control on all data. Access to the servers is also tightly controlled via SSH key authentication, and they are not addressable via internet. Log credentials are tightly monitored to make sure only authorized personnel ever have access to the system.
Kloeckner minimizes the amount of sensitive information that is stored online. There is no sensitive information on the website, and credit card numbers are not stored out there. This risk mitigation strategy combines with the security protocol to provide top-tier protection to customers.