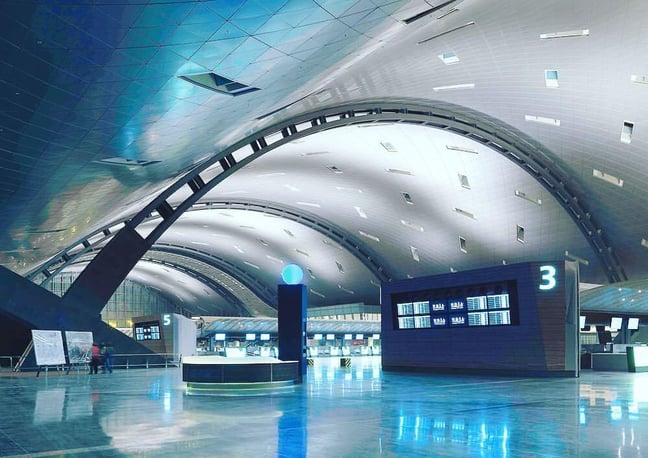 What is PVD?
Physical Vapor Deposition (PVD) coating has found a multitude of new uses since it was first discovered. Like many other technologies, it was first studied for military applications. PVD coating was used in ballistics, prolonging the life of cannons as well as reducing spin by reducing friction and wear.

"I guess some chap was smart enough to see that at various times the colors would be different," says John Dobek, V.P. Commercial Stainless Steel and Aluminum of Kloeckner Metals. "By controlling the process they realized they could create varying colors in a repeatable fashion."

From this realization, a myriad of new possibilities opened up. The combination of aesthetics and functionality gives PVD coating a unique place in metalworking. Creating PVD is a process that involves treating the surface of a metal to change its molecular properties.

"It is part art, and part science." Dobek says. A "sacrificial" metal, titanium for example, is put into a vacuum chamber and vaporized—in a sense, a plasma gas. Based on the combination of time, heat, sacrificial metal and inert gas, you can create a specific color and treated surface thickness.
Understanding PVD
PVD "coating" is actually a bit of a misnomer. It does not add a substantial layer of coating to a metal, and it is translucent. Instead, it changes the physical properties of the metal surface itself with a very minute buildup.
"It actually bonds within the surface at the micron level," Dobek says. "It creates more of a surface condition, rather than a coating."
Dobek says that a good way to understand PVD coating is to think about a common household item: the drill bit. The gold or black color on the surface of the bit is PVD. Not only does this provide wear resistance to the bit, it makes it much more aesthetically appealing. Now bits can break from heat build-up or torque in use, but rarely do you ever see the color wear. This is a simple but effective way to convey what PVD is all about.
PVD Applications
PVD coating can be found in a broad range of products. For example, it is frequently used in architecture. In addition to the appealing look of PVD, an anti-fingerprint coating (AF) can be applied to it. This makes it particularly desirable in high-touch-point areas. Most anti-fingerprint applications are a coating to impart the characteristic, usually a spray. The problem with most of these is that they can wear quickly.
"When we do it in chamber, simultaneous to the color, the AF becomes part of that surface," Dobek says. "So the anti-fingerprint characteristic will last far longer than the traditional spray coating."
PVD AF can also be found in appliances, and other aesthetic surfaces that need to be cleaned easily. When you wet the surface it makes water bead, like mercury dropped on a surface, or a glass windshield treated with Rainex. When PVD AF is applied to building exteriors, the surface actually helps self-clean whenever it rains.
The Cutting Edge of PVD
Another technical advantage of PVD is the ability to recreate the appearance of more costly metals such as copper, brass, bronze, and gold. PVD coated metal will not patina. You only need simple cleaning to keep the original copper color looking good. Rose gold PVD can be found in jewelry, and black or gunmetal color is often used for watches.
"It also has a strong presence in the medical field for surgical implants," Dobek says. "Metallic implants are frequently coated to help prevent the leeching of nickel or chrome into the body. It also has a 'metal to metal' lubricity factor that improves the life of the implant."
In-chamber antimicrobial applications of PVD are also being researched. This development could add another layer of functionality for use in the food industry, where sanitation is of particular concern, or for healthcare, where germs are a constant worry.
"It's a great arrow in your quiver as product designs and innovations evolve," Dobek says. "PVD can be an option that solves many problems."
Learn More
If you like what you are reading, feel free to check out our previous blog posts on topics such as prepainted steel, galvalume metal roofing, enameling steel, metal service centers and aluminum.