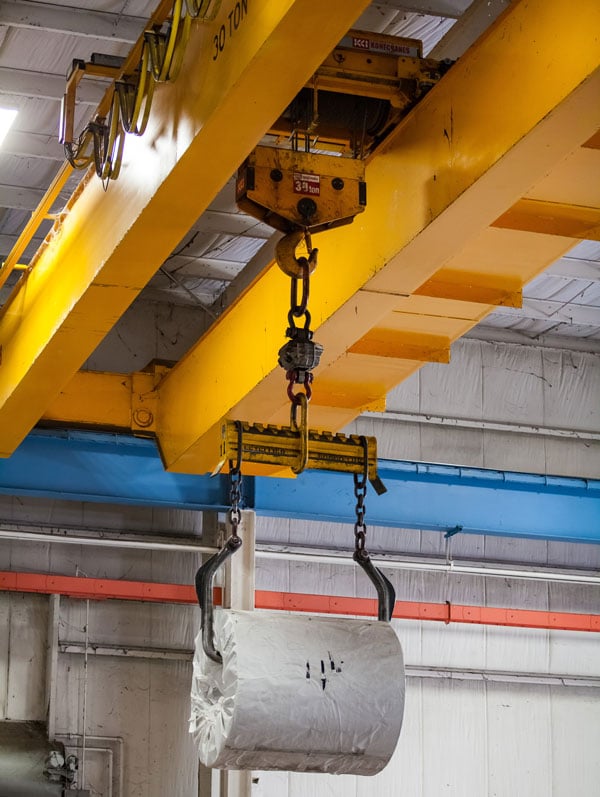 At Kloeckner Metals Corporation, there are three business segments: Flat Rolled Group, Heavy Carbon Group, and Specialty Products Group. In all three business segments, we rely heavily on the use of cranes. These cranes move materials to process orders and load shipments for our customers. To ensure the safety of our employees, reduce crane downtime, and ensure on time delivery for our customers, crane maintenance is an integral part of our business operations.
Safety
The use of cranes is required in our industry due to the size and weight of steel. Cranes provide the engineering control which addresses the workplace hazard of manual material handling, and we reduce employee exposure to this risk because material handling is one of our largest safety concerns.
The first and foremost goal of our crane maintenance program is to ensure the safety of our workers. A malfunctioning crane is an unsafe crane. We use the requirements in the Occupational Safety and Health Administration 29 CFR 1910.179 code as a minimum, but go much further when inspecting cranes at our facilities. Our trained crane operators conduct daily pre-use inspections of our cranes using the guidelines outlined in the ASME B30.2, B30.11, B30.16, and B30.17 standards. At least annually, a third party crane service company is used to complete a periodic inspection of the cranes to ensure the equipment is in good condition and is safe for use by our employees. Any safety related items are addressed immediately before the crane is put back into service.
Reduced Downtime
An effective crane maintenance system also reduces and prevents crane downtime. Cranes are an integral part of our business, and if a crane is inoperable, then the rest of the production and shipping elements of the business are hindered. The crane maintenance program is designed to improve crane efficiency as well as reduce the chance that cranes are down during normal working hours. This prevents crane downtime and the adverse effects to production and the bottom line.
Prompt Delivery
Kloeckner's default delivery time frame is next day delivery, and our customers rely on us to meet this expectation. Having safe operable cranes at all times ensures that our customers receive their products on time. The failure to deliver on time affects our customer and in turn, their customers.
If the crane is down, everyone loses. We always strive for excellence when ensuring that our customer's expectations are met and our employees are safe. The effective crane maintenance and inspection process facilitates meeting these goals.